THE GRAVE OF HUGH MOON
<![if !vml]>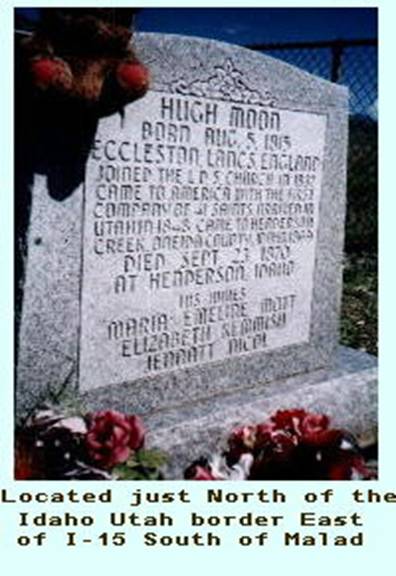 <![endif]>Any fertile imagination can find a wealth of stories in a cemetery. The birth and death dates can hint at a mother weeping at the foot of a tubercu­losis-stricken infant's bed, or a family of settlers fallen prey to some catastrophe not mentioned in a poetic epitaph on a weathered slab of marble.
All of this brings us to a question from K. Robinson of Rexburg.  "As a person is traveling from Idaho toward Utah on Interstate 15, just south of Malad there are two graves on the mountain to the east of the freeway. Who do those graves belong to, why are there and what is the story behind them?
   For an answer, we turned to the Idaho Enter­prise, Malad's newspaper. An article in that paper ex­plains the origin of the graves, which contain two early pioneers who wanted to be buried in Utah, not Idaho. Here's some information about the two people buried there:
One is the grave of Hugh Moon, born in 1815 in England. He sailed to America in 1840 after joining the Mormon Church. He moved to the LDS strong­hold of Nauvoo, Ill., where he served as a bodyguard for Prophet Joseph Smith.
He crossed the plains to the Salt Lake Valley in 1848, where he married.  Brigham Young asked him to move to Dixie in southern Utah to build up the church there, but he moved again after five years, this time to Henderson Creek in the Idaho Territory.
He died in 1870 at the age of 54. His wishes were to be buried in Zion, which he concluded to be Utah. Upon his death, his family took him far enough south that they thought they were in Utah, to a small cemetery east of Portage. As it turned out, the burial site was just inside the Idaho territory
A second grave there is that of Jane Copeland Howell, who was born in 1789 and grew up on the frontier in Illinois.
Her son James married Rosannah Mook in 1857 and they and Jane trav­eled west with a Mormon pioneer com­pany. They arrived in the Salt Lake Val­ley in 1863 and the Howells settled in Kaysville for five years. They moved to East Portage in the Malad Valley in 1868, where Jane died the next year at age 80. She adamantly implored her family to bury her in Utah and not Ida­ho, although she was not a Mormon. With no border markings, however, she was actually buried in the small ceme­tery east of Portage.
Barry Ginter Column  "You Asked for It"
                    Post Register, Idaho Falls, ID